In the summer we normally try to do a camping trip once a month. By this point in August the kids and Karen are both back to school. If we were to go camping with the trailer we'd have to get the trailer from storage on Friday afternoon, take it home and load it up for the weekend, and then head up to the campground. While having the trailer is nicer than camping in a tent (for us), the logistics of it are much more complicated. Because Karen and the kids are both back to school, we wouldn't be able to leave our house until 4 PM at the earliest. It's at least two hours to get to any campground in the mountains here (more with traffic). Once there the trailer needs to be parked in its space and then everything setup. Normally we're not settled in to camp in this scenario until 8 PM. So we really have one full day to relax at camp and then have to pack everything up on Sunday morning for the drive home. That's a lot of work just for one real day of camping. So we decided to only go camping when we can make at least a three-day weekend out of it.
Club Wyndham Flagstaff
Instead of going camping for August, I booked a weekend stay at Club Wyndham Flagstaff. Club Wyndham is a timeshare club but we are not owners in it. You can book their units ad hoc even if you're not an owner. We've stayed at a couple of their properties before and they're a little better than hotel rooms. They're more like condos. They have full kitchens (with cooking utensils, dishes, and silverware) and can have multiple bedrooms sometimes each with their own bathrooms.
At Club Wyndham Flagstaff I only got a one-bedroom place this time but it did have a sleeper sofa for the kids. It was pretty small but we were staying for only a couple of nights. By the time we got checked-in it was dark already. Since these are condos, the check-in is in its own separate building kind of away from the condos themselves and we had to drive about a half mile from the check-in building to our condo for the weekend.
We got settled and unpacked. Karen went to take her shower only to find that there was no hot water. If you turned on the hot water faucet you'd get a couple seconds of water and then it would die out to nothing. Karen powered through it and took a cold shower. I called the front desk to report it and they were happy to send someone out to look at it but the kids were already asleep so I told them to come the next day. I could also hear the occasional beep from a smoke detector in the unit we were attached to. It was obviously vacant so no one there would complain but I could hear it once every couple of minutes. It wasn't sound enough to disturb us though.
Riordian Mansion
We ventured over to the Riordian Mansion State Park over in central Flagstaff near Northern Arizona University. The mansion belonged to a couple branches of the Riordian family and is actually two nearly identical houses joined together (the houses were designed by the same architect that did the El Trovar Lodge at the Grand Canyon). The Riordian brothers were active in the lumber industry in and around Flagstaff. Someone from the family lived there up until the 1980s when it was turned over to the state to be made in to a park.
You have to take a guided tour through the houses if you want to see the inside. You can wander the grounds all you want on your own. The visitor center was the home's six-car garage originally. Karen and I have done the tour before but our kids haven't. The tour takes you through both floors of one of the houses but only the first floor of the other one.
Most of the homes' furnishing and appointments are original. Being true to the homes' time period, there is an ice box, no television of any kind (the main room where the family would gather had a large swing hanging from the ceiling in front of a fireplace), and one of those telephones with a hand crank on it. The houses did have wiring for electricity (they were the first in Flagstaff to have electricity) and central heating. They also had indoor plumbing.
The two homes are joined by a central room that both families could use as a common gathering place. It was decorated as a recreation room with a pool table and a fireplace.
The one house that you can tour both floors did have servants' quarters, which looked pretty nice to me. It didn't sound like they always had servants though. There was a tight and steep staircase to get to their quarters right as the tour started inside the house. I don't think they had access to the home's bathrooms because they had chamberpots on display in the bedrooms. In order for the owners to contact the servants they had an ingenious "intercom" system. There were these boxes where the servants would be working. If someone came to the front door, a button there would trigger a notification on these boxes to let them know (remember, no doorbells in this time period; because of the size of the house you might not hear someone knocking on the front door). The dining room also has a discreet button built in to the floor probably for the lady of the house to ask for the next course to be brought out without having to yell or get up from her guests.
Lava River Cave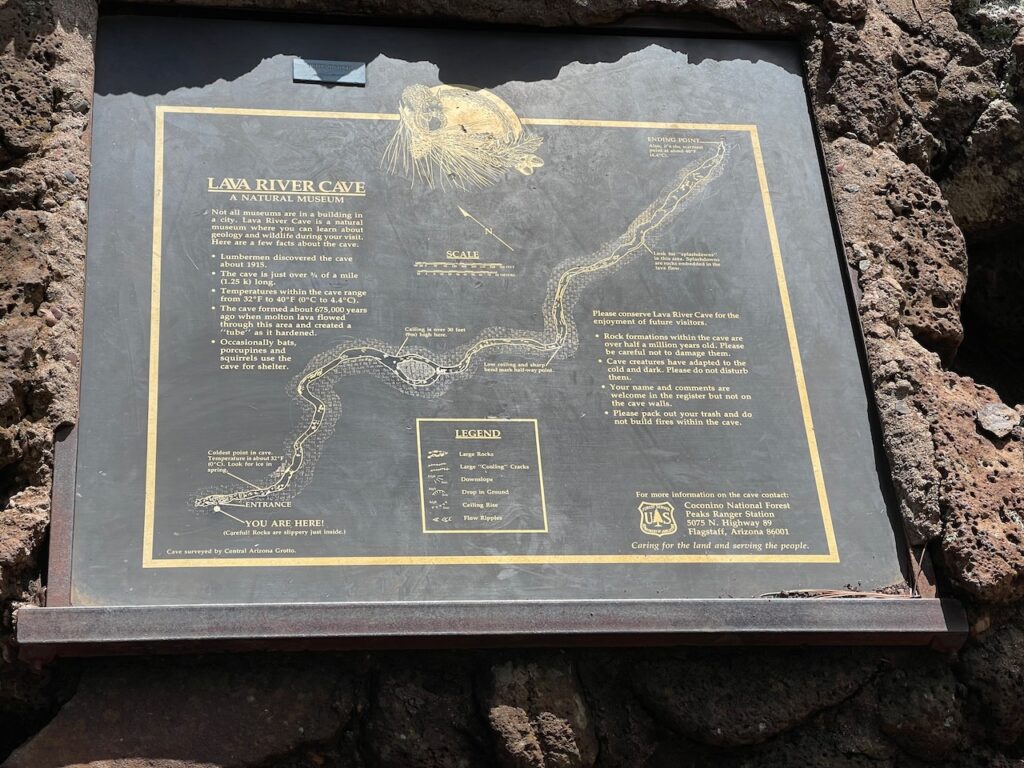 Years ago Karen's parents took us to a lava cave just west of Flagstaff. At the time I think it was kind of a hidden thing. Now I guess enough people have found it or heard about it that the Forest Service acknowledges it and has tried to protect it. It's not like a national park but now there are signs pointing to it if you know what forest roads to take.
Much of northern Arizona is volcanic so this lava cave is evidence of that. It extends about a mile from the opening. The beginning is pretty steep and rocky so there's a little scrambling necessary to get through the mouth of the cave. Once past that part it's pretty easily walkable with only a couple spots further in where you have to be a little careful.
We thought the kids would enjoy seeing it so we headed off and found it pretty easily. We start down the mouth of the cave opening being really careful. Not only is it steep and rocky, but northern Arizona has been getting a lot of rain lately so now the rocks you have to carefully scramble down are pretty slippery as well. The Forest Service has basically put up some information about the cave and shored up the opening but you're on your own otherwise.
Between the kids forgetting their flashlights, me not having really great shoes for caving (I was in my work shoes which do have a sole on them but not like athletic or hiking shoes), Matthew falling and hurting his shoulder at the mouth of the cave, and Lorelei suddenly getting scared of the cave, we didn't make it very far in.
Picture Canyon Natural and Cultural Preserve
One of the nice things about staying at the Wyndham timeshare resort is that they had a recreation building where you could go for a swim, play miniature golf, watch movies, play board games, and talk to the staff. The staff there recommended we go to Picture Canyon Natural and Cultural Preserve to do some easy hiking.
The City of Flagstaff acquired this area not too long ago and turned it in to a park because there are a lot of petroglyphs from the Northern Sinagua people from about 1,000 years ago. Rio de Flag also runs through it (which Matthew was obsessed with the name).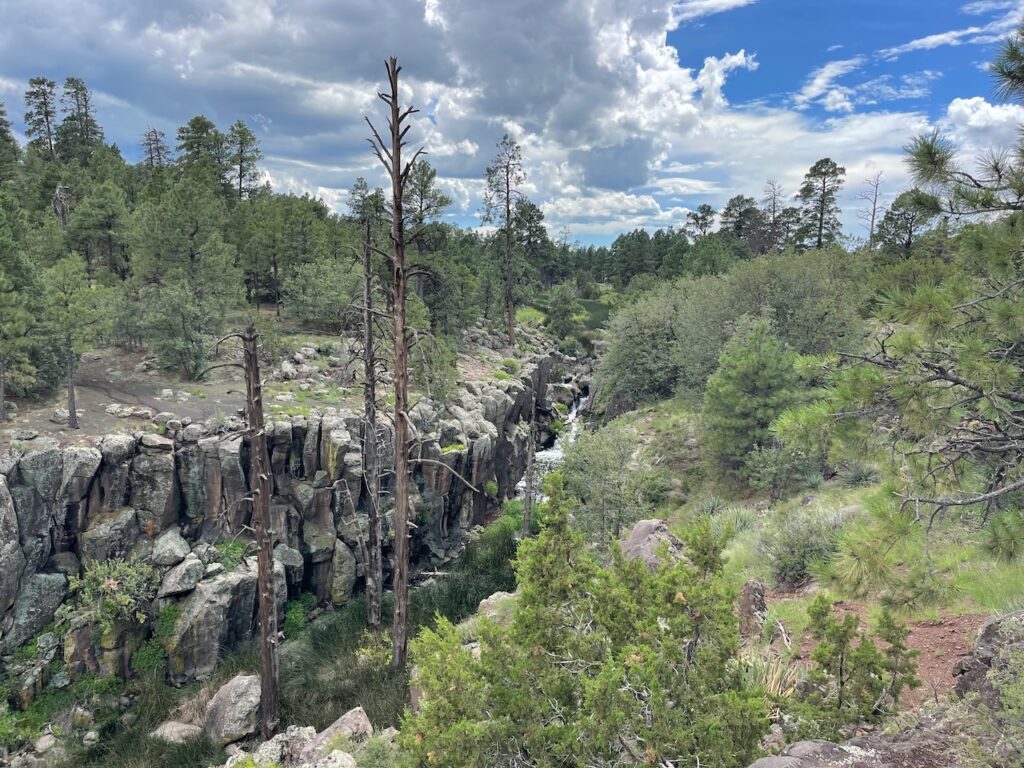 We did the Tom Weaver Trail until it connected with the Arizona Trail crossing Rio de Flag (we've been on lots of different parts of the Arizona Trail but not the entire thing obviously because it's 800 miles) and then looped back on the Tom Moody Trail.
Returning home
On the day we were leaving I was out doing some mapping stuff for Open Street Map and heard some people staying in another unit talking about having a dead battery. I went over and asked them if that was really the problem and got my portable jump starter (they had no cables anyway). I carry a Noco rechargeable jump-starter in the truck in case I ever need it so I was going to get to try it out for the first time today (I haven't needed it yet). I have several Noco products. I use them to keep my trailer batteries charged and maintained as well as my motorcycle battery. Their products work really well (the trailer batteries are over three years old now and are still testing as healthy batteries). I went and got the jump-starter hooked it up to the dead battery, turned it on, had them turn the engine over, and it started. They were all pretty impressed with it and were taking pictures of it for further information.
We left Flagstaff and headed home. Just as we were leaving Flagstaff is started raining hard. We were fortunate enough during our entire time there that we really didn't have any rain that really disrupted our activities but that all caught up with us heading south on I-17 back to Phoenix.